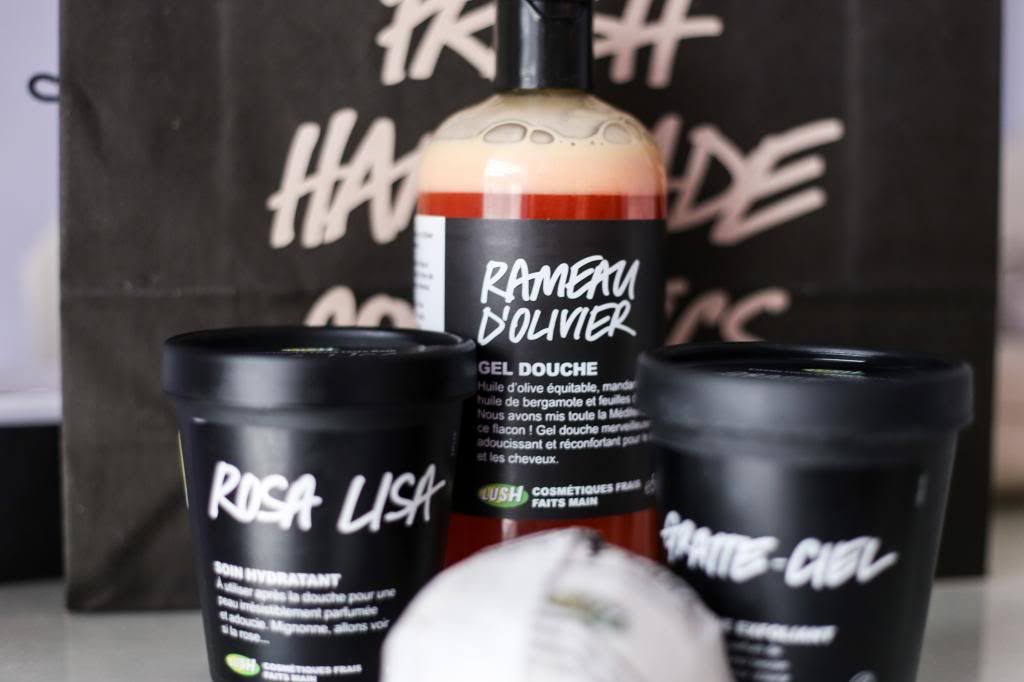 Today I wanted to share some of my favourite LUSH products with you. I love the philosophy of the brand, natural, cruelty free and sustainable. What's there not to love? Nevermind the fact that all of their products smell like heaven...and rainbows and unicorns. Anyways, there are four products I am faithful to and I wanted to share them with you!
1.
The Olive Branch
- Contains fairtrade olive oil, fresh mandarins, bergamot oil and vine leaves which give it a soft sweet smell, nothing overpowering like "Flying Fox". The olive oil also works wonders for the skin, it leaves it soft and lightly scented. I hate when my showegels smell overpowering or dry my skin out, this one is perfect - give it a shake and use it with a loofah (too runny to lather on using your hands) and your skin will glow!
2.
Ro's Argan Body Conditioner
- This is actually a conditioner, yes like the stuff for the hair, for your skin. Its really useful if youre like me and youre simply too lazy to apply cream after the shower, wait for it to dry, etc etc. This cream is easy to use and makes your skin softer than any other cream I have used. Containing a variety of moisturing oils that are good for the skin such as argan oil, cocoa butter, cupuaçu butter, brazil nut oil, almond oil and fair trade shea butter, it gives the skin a powdery rose smell while leaving it divinely smooth. I also noticed that it helps even out your skin tone. Just put it on in the shower after your shower gel, take off with water, and watch magic happen.
3.
Rub Rub Rub
- I hate it when scrubs are too rough, having sensitive skin some scrubs can be quite bad for it. This one however does a wonderful job at scrubbing without hurting or damaging the skin. It contains mineral-rich sea salt and organic lemon juice as well as some mimosa and orange flower absolutes to give it a subtle scent which lingers on the skin all day.
4.
Ceridwen's Couldron
- This product is divine, it is incredible, no really. Its a bath melt which is packed and I mean PACKED, with all sorts of oils and butters like cocoa butter, walnut oil, and oatmilk. It comes in a little mesh poch which, after the butter disolves into the water, can be used to wash your body as it contains oats and a wildflower mix which calms and soothes the skin. It also make it look like youre bathing in milk (for those who like to pretend to be Cleopatra) and leaves the skin soft for days after.
Here are my four favourite products from lush that I will never give up using, give them a try and let me know what you think!